This bundle includes the following titles:
All I'll Ever Need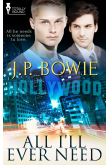 All Edward Conway needs is someone to love, and in sexy Puerto Rican Alex Martinez, he may have found that someone—until a wild party threatens to take everything from him.
When Edward Conway came out to his family he never imagined their reaction would be to shut him out of their lives. Searching for acceptance he leaves his hometown hoping to find a new life in Los Angeles. Finally daring to enter a gay bar by himself, he meets Alex Martinez, a celebrities publicity agent, and the two men connect on all kinds of levels. Despite the pressure of Alex's job, which takes him out of town soon after he and Edward connect, Edward feels he may just have met the man who can give him something to live for.
Things look good until Edward's wild roommate Troy, needs a lift to a party where 'sex, drugs and rock'n'roll' are the order of the day. Reluctantly Edward agrees to drive Troy to the party, but before he can leave he becomes the victim of a vicious incident that could shatter the hopes he had for the future.
Alex is there to lend support but he is haunted by a tragic past, and in the present is torn between an old loyalty and the wish to make Edward a lasting part of his life.
Turkish Delights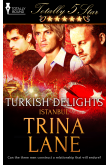 Three very different men from three different countries look to build a love greater than any Wonder of the World.
Project manager Garrett Sloan builds majestic hotels for the rich and famous around the world, but when it comes to love, all his relationships seem to crumble. His latest project lands him in Istanbul, where the desire he's held for a certain French architect heats up under the Middle Eastern sun, and his resolve never to mix business with pleasure melts beneath the added hot stare and skilled hands of a Turkish mason.
The three men discover they want to build a relationship to stand the test of time—much like Kyle LaFleure's buildings and Emir ?ahin's stonework. As the bonds between Garrett and his partners grow stronger and more complex, they work to lay the perfect foundation on which to build a lasting relationship. Can the three men construct a relationship that will endure? Or will their love reach its zenith when their shared task of finishing the ultimate Ottoman luxury hotel reaches its completion?
Reader advisory: This book contains a scene of double penetration.
My Highland Cowboy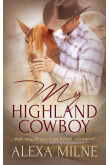 Duncan McLeish owns a ranch. Unlike most ranches, this one is in the Scottish Highlands. Having inherited a failing farm from his grandfather, he turns it into a successful business. He has friends and he loves his home, but he's lonely, and not even infrequent trips to Glasgow and Edinburgh slake that thirst to find someone. Then Drew Sinclair walks into his life.
Drew Sinclair is tantalizingly close to getting his clothing brand noticed in the industry. He and his business partner, Joy, create individual dresses, while, on the side, Drew produces a line of men's lingerie. He visits Scotland to design a bridal gown for his sister, Jenna, who is marrying Duncan's best friend at Christmas.
Duncan and Drew have nothing except their Highland upbringing in common, but they say opposites attract, and the attraction is immediate. Is this simply a summer fling, or can two men who live such opposite lives miles away from each other find a way to love?
Reader Advisory: This book contains references to homophobia and references to death of a character's parents.
General Release Date: 15th December 2015