This bundle includes the following titles:
Veil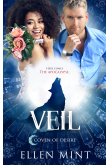 Here comes the apocalypse.
The first Horseman is threatening to destroy the world. Witch hunters are exterminating anyone who might stop Conquest. The hulking werewolf Eric is breathing down their necks. What can Layla do when the whole world's about to end? Plan her wedding!
Surprise, surprise—the coven boys are starting fights about her marrying Cal. Daniel's afraid he could be pushed out. Ink would never admit that he's worried she'll move beyond him. Garavel just wants to get away from the wet dog smell. As for the ex-witch hunter Raul, he declares the whole idea ludicrous. Witches are vanishing across the world and Conquest is definitely to blame, but no one knows yet how to stop him. Everyone expects Layla to put her life aside to save the world. All she wants is one day to be happy.
Worst of all, her mother is back in her life and already trying to control her. She tells Layla that witches do not fall in love, much less marry. It could kill both the witch and her lovers. After everything in her life, Layla refuses to give up the men who have saved her.
In this penultimate book, the Coven will be tested as they fight for their place in both the relationship and the world. Every force is trying to pull Layla away from her guys, but she'll need them more than ever to survive the horror of planning a wedding in three months. Will the bride make it down the aisle before the world ends?
Reader advisory: This book contains scenes of violence and death.
Sin Party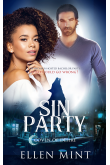 An incubus-hosted bachelor party…what could go wrong?
Moon save Cal, Ink's decided to throw him a traditional bachelor party with all of the other guys in tow. Limo ride? Check. Secret bar that requires a password? Check. Mysterious woman enchanting the group from a stage? Damn it, Ink!
This is a party Cal, Daniel, Garavel, Raul or even Ink will never forget. Hopefully, Cal will make it to the church on time and he won't have to tunnel his way out of a jail to get there.
Sin Party is a companion story to Veil, the eighth Coven of Desire book. Please do not read this before cracking into Veil, or risk spoilers.
General Release Date: 23rd January 2024