Meeting the Men of Wolf Creek: Guest Post with Gemma Snow
Posted by Heidi Blakey on 29th August 2017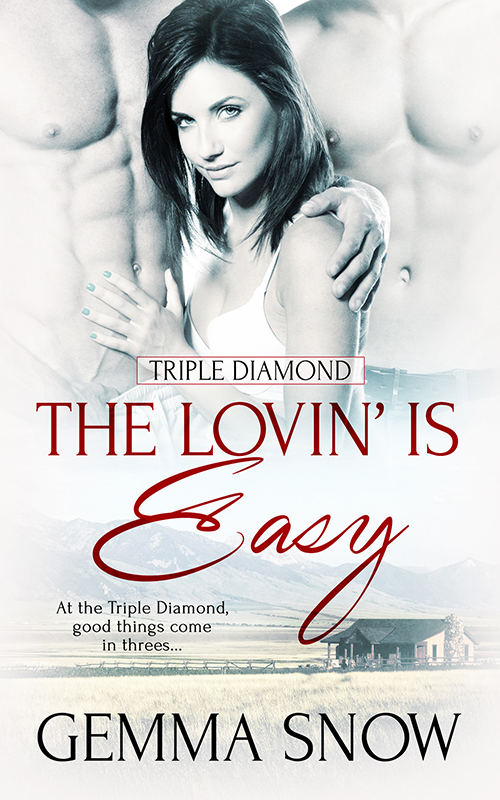 To celebrate the release of my new M/F/M menage love story, The Lovin' is Easy, today we're going to interview both of the story's heroes to give you a vibe of who they are as individials!
So, let's meet the men of Wolf Creek: Ryder Dean and Christian Halowe
Can you tell us a little about yourselves?
R: I guess, I mean what's there to know? We work at the ranch and that's the long and short of it. We both grew up in Wolf Creek and came right back after college, we have Mason to thank for that.
C: Everything he said. Except I have a Harley which makes me cooler than him.
What kind of work do you do at The Triple Diamond Ranch? How'd you end up there?
C: Mason, the owner, he caught us trying to steal his truck when we were, what, fourteen or something? Instead of calling the sheriff, he offered us a job and we never left. I went to college for agricultural engineering and came right back to work the ranch when I was done.
R: Yeah, I went for the big vet degree. But Mason told us he'd pay our way if we worked for him for five years. He was a good boss and I don't know, Triple Diamond feels like home, you know?
Why those degrees?
C: I like working with my hands, on the bike, out in the fields. Always had a knack for the agricultural side of things and Mason let me try different crops and techniques, which he didn't need to do. Some of the tries, well, they went t*ts up. But some actually worked.
R: I like animals more than people, what can I say? I love horseback riding and you can't have a farm without animals.
Can you tell us a little about growing up in Wolf Creek?
R: Is this necessary? Only thing anyone needs to know is that Christian's dad raised me like a son, and I respect the hell out of that man. He, and Mason, they taught how to be the right kind of man in this world, ya know? As for the rest of it, ain't a prettier place in the world than the Black Reef Mountains.
C: I met Ryder when were some punkass kids, ya know, and we caused all sorts of trouble growing up. My dad tried to keep us in line, did his best, but there's a lot of trouble to be had around here. And then Mason hired us and it seemed like we didn't want to get up to trouble anymore, ya know?
Would you want to raise a family in Wolf Creek?
R: If I ever had a family, and I'm not saying I will because life is funny like that, it'd have to be here. This place, these mountains and trees and fields, it's paradise out here. And yeah, might be fun to see some brats running around, who knows? I don't know, growing up with a daddy like mine, you start to wonder if it runs in the genes.
C: I'm not the family type… Ryder will say he isn't either, but that's not true. Women want him for a dad to their kids, ya know, not some inked up biker.
What do you look for in a woman?
C: Physically, I'm not picky. I like a curvy girl, ya know, fine ass, big breasts– no such thing as too big, not for me. She doesn't need to be too thin, either, I don't know. I mean, Ryder and I have a thing, so we find the women into that thing and roll with it. As for the rest, I mean, if I did ever get married, I'd want her to smart and passionate. I want her to speak her mind and tell me– and the world– exactly what she's thinking
R: Yeah, so Christian and I got all tangled up with a girl back in college and we kinda never stopped doing that, ya know? I guess that complicates things, but I'm here to live my life and I hope the rest of the world goes along doing the same. I do love a woman with a sense of humor, though, that's important. Also, she can't take herself too seriously.
Anything else you want to share about yourself?
C: Ryder and I built our house a few years back. Got one hell of a view.
R: Triple Diamond is the only place I'd really consider home. Jesus, now I'm all nostalgic and shit. Alright, I could pretty much camp forever. You ain't never seen anything prettier than the night sky in the Black Reef Mountains.
Follow Ryder and Christian in The Lovin' Is Easy, Book 1 in the Triple Diamond series, available for early download now and from most major retailers on September 26th.
Happy reading, Gemma Snow.