This bundle includes the following titles:
When You're Gone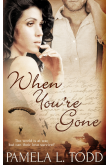 The world is at war, but can their love survive?
Barbara Howell isn't your typical girl. Since she was little, Barb was told she had one job—find a husband and give him children. Instead of conforming to her mother and society, Barb chooses Wellesley College in favor of finding a husband. And in meeting Lois Dubbs, her whirlwind of a roommate, Barb finally finds where she fits in the world—at Wellesley.
In her determination to embrace nonconformity, and displease her mother, Barb closes herself off to even the possibility of finding love. She has no interest in being arm candy, or taking the back seat to a man—especially one who intentionally antagonizes and teases her… Even if he does have the most dazzling blue eyes she's ever seen.
From the moment he laid eyes on her, Van Judson knew Barb was the girl for him. Luckily for him, Van is patient—which he needs to be when dealing with a feisty dame like Barb.
Around Van, Barb slowly lowers her guard and comes to realize she has lessons to learn that cannot be taught in a classroom. Soon she is swept away on a current of first love and infatuation. But Barb is about to discover that falling in love is the easy part…
When Pearl Harbor is attacked, recruitment offices are flooded with determined young men… And Van is no exception. The world is at war. How can Barb and Van survive the distance…and the danger?
For the Love of a Marine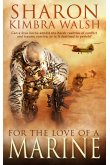 Afghanistan, a land of relentless temperatures, dust and sand with danger lurking at every turn and at every footfall, and a war that does not discriminate between enemy, friends or lovers.
Life on deployment is traumatic and fraught for Corporal Katie Walker, a career British Army Combat Trauma Medic. There is no time for relationships, they would create more complications than she can handle. Giving your heart to someone is to risk losing them and she has no intention of taking that enormous chance.
However, in the unlikeliest of places she meets US Marine Staff Sergeant Joe Anderson, a hardened, grizzled veteran and a 'by the book' career Marine. Committed to his mistress, the US Marine Corp, he has never wanted a woman until he meets the pretty medic.
Attraction between them is instantaneous and intense but living their lives on the edge, away from loved ones and the warmth of home, is what Katie and Joe feeling real or an illusion? When denial of their feelings overcomes duty and danger, they come to realise that love can bloom and flourish, bringing to two people a small piece of happiness and warmth amidst hardship and terror.
Born on the foundations of combat with its harsh realities, cruel environment and conflict, can their deep love for each other survive or is it destined to perish, destroyed by tragedy and loss?
Reader Advisory: This book contains scenes of violence.
A Kestrel Rising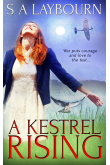 War puts courage and love to the test.
It's 1939, a lone Spitfire roars over her family home, and Ilona Lowe, entranced by its grace and power, finally knows her place in the fight against Hitler. She joins the Women's Auxiliary Air Force, is stationed at RAF Catterick and embarks on an all-too-brief love affair with a Bleinheim bomber pilot who is killed during the Battle of Britain.
Heartbroken, but determined to carry on, Ilona returns to active duty where she encounters Francis Robson. He's arrogant—some would even say reckless—and another pilot. Yet he's worth the risk.
Their love isn't easy. Francis harbors jealousy about her former lover while Ilona's posting at an RAF bomber base feeds her nightmares about Francis' safety. She can see the escalation of stakes as his missions grow ever more dangerous, the enemy more desperate. Ilona must put her courage to the test because she knows that loving Francis means letting him let him fight on, regardless of the terrible price they both may pay.
General Release Date: 15th December 2015