This bundle includes the following titles:
Quinn's Gambit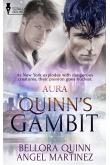 An unregistered human con wizard and a duty-bound, straight-laced elf cop. As New York explodes with dangerous creatures, their passion goes nuclear.
After a terrible magical accident at Berkeley created unpredictable holes between realities, all manner of non-human creatures started popping into our world. These displacements, called Random Anomalous Reality Events or RARE, have taken magic out of fiction and relocated it firmly in reality, resulting in a great deal of chaos and confusion. Displaced elf Valerian works with AURA, the Agency of Unnatural Resettlement and Assimilation, to intercept these beings as they appear in the human world, helping the peaceful ones and subduing the violent, malevolent ones. It's good, satisfying work, and Val would be happy if he wasn't so lonely.
Quinten is a young mage just trying to get by, but New York isn't the easiest city to make a living in. If his methods are sometimes morally dubious, his heart is still in the right place. Of course, for Quinn, the right place means firmly locked away, protected at all costs. Living by his wits and sometimes magically induced luck, he works as a 'freelance magic user', or unregistered mage and small-time con, according to the authorities. The last thing Quinn wants is to draw the cops' attention, but when an Event happens right on top of him, he's forced to turn to AURA for help. Valerian isn't at all what he'd expected in an AURA cop, and he certainly wasn't expecting to join forces with the sexy elf, a snarky drow and a bitter incubus, when certain individuals in power try to stop the RARE by any means necessary.
Things are not all what they seem at AURA headquarters, and a greater evil lurks at the top than anyone could have imagined.
Forbidden Waters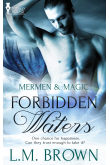 For the dying race of mer people, homosexual relationships are prohibited. When Kyle falls for Prince Finn he knows he is navigating forbidden waters.
To save his clan from ever-increasing shark attacks, merman Kyle seeks sanctuary for his people in the sunken city of Atlantis, even though he knows that as a homosexual merman, he will be sacrificing his own chance for love. Love finds him anyway in the form of Prince Finn, the rebellious young heir to the Atlantean throne.
When their relationship is discovered, Kyle is the one to pay the price. Banished from the oceans, he seeks shelter in England and finds a new love with human, Jake Seabrook.
For Jake, Kyle is the chance to move on from the crush he has on his straight best friend. The strange man he found naked on the beach seems to fit into his life with ease. If only Kyle weren't keeping secrets from him, Jake could see them having a future together.
Things are not what they seem for either of the men and when Kyle discovers the truth about Finn, he knows he must return to Atlantis.
Three men, a tangled relationship, and one chance for happiness—if they can trust enough to take it.
Dragon Dreams and Fairy Wings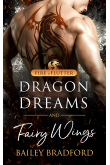 When one fairy with a faulty memory meets a snarky dragon, the supernatural world will never be the same.
Griff was born a Love fairy, but he never quite fitted in. He didn't want to be part of a harem…at least he didn't think so. What with his wings gone and his memory damaged, he can't be certain of what he felt in the past. All he does know is he wants his wings back. Without them, he's grounded.
Blaze is a dragon shifter who tends to stick his foot in his mouth—and some other parts in other places—when he really shouldn't. His brother's the king, and his sister-in-law is scary. Blaze's last screw-up got him grounded, unable to shift into his dragon form. His punishment seems harsh to him, but there's no escaping it.
When the Love fairies come to the castle to work on forming an alliance, Blaze has about had it with guarding the horny beings, and he's disappointed that they don't stay small and cute. Swatting at something buzzing him, he almost starts an inter-species war when it turns out to be a fairy on a dragonfly.
And from that snarky first meeting between Griff and Blaze, something wonderful, and dangerous, will come…
Publisher's Note: This book was previously released elsewhere. It has been revised and reedited for re-release with Pride Publishing.
General Release Date: 15th December 2015