This bundle includes the following titles:
Passionate Bid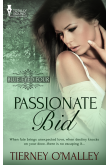 When fate brings unexpected love, when destiny knocks on your door… There is no escaping it.
The destiny of a man… Drop-dead gorgeous veterinarian Julian Ravenwood has made a mistake—he's slept with young virgin Joanie Saint Claire. Forced to do the right thing, he marries her then leaves while she's still in her wedding gown.
The fate of a young woman… After her one night with Julian, Joanie finds herself facing an altered life. She's left alone with a little bug who means the world to her.
The spirit of an abandoned wife… An opportunity to solve Joanie's problems comes when Julian shows up to serve her. She agrees to sign the divorce papers on one condition—he must pay her one hundred thousand dollars.
The unexpected love… Julian can't believe it. His scrawny bride has grown into a seductive, attractive and feisty woman he can't stop lusting after. And her kept secret rocks his world.
Publisher's Note: This book was previously released by another publisher. It has been considerably expanded, revised and re-edited for release with Totally Bound Publishing.
Reader advisory: Please be aware that this book contains a sex scene that features the heroine as a 17-year-old and therefore below the age of consent in some countries/ states.
Off the Rails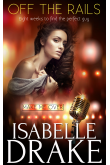 High school reunion—three words that threaten to derail Madison's life. Now she has only eight weeks to find the perfect guy, the perfect job, or a way to pretend she has the perfect life.
Madison is less than thrilled when the invitation to her five year high school reunion arrives. When she refuses to RSVP with a yes, her best friend Tia reminds her of a pact they'd made—they'd use the reunion to show up everyone from school. But Madison can't show up anyone. She isn't the super famous superstar she'd bragged that she'd be. She's an unemployed singer with no boyfriend and no job. Her only option? Find a way to fake the perfect life.
Eight weeks isn't much time. But it is long enough to get drunk and enter a bikini contest, redefine the term date-from-hell, get caught in an awkward ménage and win a bar fight. But will all this bad behavior help Madison snag the blond, blue-eyed geek who was foolish enough not to notice her in high school? No matter what it takes, she's going to find out.
Grind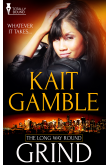 Can Jason convince Cara to go from being lovers to something more?
Commitment phobic Cara Witchai loves her life the way it is—especially her no-strings-attached relationship with long-time lover Jason. But when Jason blurts out a marriage proposal, it throws Cara into a tailspin. How can Jason convince her to stay?
Cara, a successful restauranteur, prefers to be in charge of her life. She's done a great job of it so far. She has a wonderful friend, a restaurant where customers need reservations months in advance to get a table and she has a man who fits into her life without taking over. She can get on with her life while still having fantastic sex and not have to worry about maintaining a relationship that will eventually fall apart. It's bliss, as far as she's concerned.
Jason has other ideas for his latest visit to see Cara. They've dated in the past, but after breaking up, their arrangement has evolved into a mutually satisfying meet every few months. They understand each other and are happy in and out of bed. However, neither has pushed for anything more. Jason wants to take things further, so he must convince Cara that they make the perfect couple.
His plan—use every weapon in his arsenal. Money, his command over her body. Whatever it takes.
General Release Date: 15th December 2015