This bundle includes the following titles:
The Dimple of Doom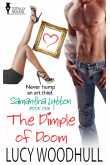 Samantha Lytton is either going to end up in jail or famous. Maybe both.
Samantha, a semi-enthusiastic secretary, is getting along just fine. So what if her big Los Angeles acting career peaked at a pickle commercial, her love life is a grislier remake of Titanic, and dinner every night features Pizza Rolls. Life is great and fabulous and not terrible at all, okay?
Things start to look up when a hot accountant with the cutest dimple in the world maneuvers her into her boss's office for a little hanky-panky. Except his version of hanky-panky is stealing a priceless Picasso and some light kidnapping. Samantha gets away, kidnaps him back—thank you very much—and finally figures out this guy isn't an accountant, or an F.B.I. agent like he said. His name is Nick—or Sam, maybe—and he's a freaking international art thief. And she's one dead wannabe-actress if they can't get the bad guys to stop shooting at them.
Samantha should hate Nick/Sam, but he's sexy, funny, and can square dance better than anyone ought to in such tight pants. How can any self-respecting woman fall for a man whose name she doesn't know? Easy. He opens his not-so-wicked heart and ruins her life in the best way possible.
Between dodging criminals, Samantha learns that finding happily ever after with yourself is the first step to real contentment. A cute dimple is just the second.
Sparkling Stilettos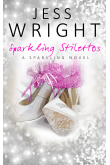 Chasing dreams can be tough, even when you run as fast as your bespoke stilettos will take you…
As Megan Winter's wedding day approaches, her heart flutters with excitement. Dylan Dunkin-Buckshaw is a great catch. Handsome in a sharp, confident kind of way, he's everything she's ever wanted in a man and a husband. A match made in heaven—right?
With a fledgling shoe design business that's set to take off, Megan decides to take control of her life and strut her stuff. With the help of loyal friends and a handsome stranger she begins to turn heads and get noticed. She's hitched her wagon to the stars and she's planning on enjoying the ride, wearing her best stilettos whilst she does it!
But will she reach those glittering stars? Is there something lurking in the shadows to hold her back? Under all the excitement and sparkle of her new found adventures there seems to be an ominous presence trying to take the shine from her happiness.
Reeling in Love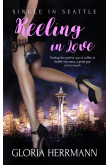 Finding the perfect cup of coffee in Seattle is easy. Finding a guy, not so much—unless that guy finds you…in the most unexpected way.
Snap. Click. Snap. Molly steers clear of anything that doesn't have her behind the lens of her trusty camera. That is her passion, her love and her life. Being an award-winning photographer who creates countless book covers for authors all over the world has its perks—half-naked men, for starters. Always looking but never touching—mixing business with pleasure is a big no-no in her line of work. Molly never could picture herself having a happily ever after like the romance novels where her cover shots are featured.
There are plenty of fish in the sea, but what happens when you get clobbered by one—literally? Molly finds herself being the catch of the day in Seattle's Pike Place Fish Market.
After meeting Owen, a sexy fisherman with stormy-gray eyes, everything changes. Not ready to take the plunge and dive into this romance, Molly finds herself barely keeping above water as she swims in a sea of new emotions and wild love. She isn't so sure she is cut out for this relationship, but Owen sets out to prove that fate has him Reeling in Love.
Will Owen and Molly sail off into the sunset or will Molly be the one that got away, only to stay…Single in Seattle?
General Release Date: 15th December 2015