On the Edge: Guest Post with Wendi Zwaduk
Posted by Heidi Blakey on 7th November 2017
I like to write hot. That's no shock to anyone. Since my first book, when I wanted to push the envelope, but it wasn't looked upon with favor, I've allowed my characters to push beyond even my comfort limits. It's scary and fun to see just how far they'll go.
I was asked to write for the Sensory Limits anthology and before I could finish reading the email with the sub call, the characters started talking. The best part? I didn't have to nudge them toward a certain fetish. They let me know right away what direction we were going.

My heroine is into wax play. She prefers most any pain play, but wax is her favorite. She knows what she likes and her limits, but because she's not collared, she's free to do scenes with the various Doms at the club. Now writing a wax play scene is tricky. You can't just dump a hot substance all over someone. There are limits and precautions that must be observed for the play to not only be pleasure-filled, but safe. The Dom must know the temperature range of the wax and where not to dribble it on the body. So to write the scenes involving wax, I had to know what I was talking about and I had to do it right.
In Just You & Me, Ryder, the Dom, also likes wax play. What I didn't get to go into as deeply as I would've wanted because of word count limits, was his desire to

not only drip the wax onto Cat, but to decorate her. Many times, the Dom will make designs in the wax… like tattooing, but with something that can be peeled off. I think it's beautiful, even if the designs don't last like tattoos. Since Just You & Me is a shorter story, I'd like to go back to Cat and Ryder and flesh out their story beyond the end of JY&M.
These characters are in a short story, but they're not simplistic people. I prefer to write stories of second chances. The characters might have had a missed opportunity from a previous situation, but in the current story, I try to give them that second chance to have a happy ending. Just You & Me wasn't a conventional second chance, but who needs conventional all the time? I don't.
I pushed my limits by writing out of my comfort zone - I like wax play, but I'm not so much into pain play. Cat is. Writing her and allowing her to be complex was tough at times, but rewarding. I loved writing their story and I hope you enjoy reading it.
Read Just You & Me as part of the Sensory Limits anthology
What's a girl to do when she's not ready to leave the single life but the right man has come along with a collar?
Ryder Lucas didn't come to Exposed, looking for a sub. He joined his best friend's club to demonstrate fetishes and enjoy the single life. Then he sees Cat and uses her for a scene. She's everything he's ever wanted in a sub and a woman. He won't rest until the blonde bombshell is his.
Catharina 'Cat' McLean doesn't want a permanent Master. She's happy taking part in the occasional scene but won't be collared. She'd rather be in control of her life. When Ryder asks her to be a part of a scene with him, she sees no reason to refuse. He's tall, dark, handsome and she can't resist him. He knows how to play with her fetishes—wax, ice and bondage—but is she willing to submit to him on a full-time basis?
Who knew finding a heart's desire would be this all-consuming?
Reader Advisory: This book contains scenes of ice play, wax play, pain play.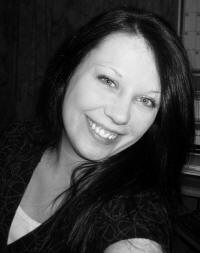 About the Author:
Wendi Zwaduk is a multi-published, award-winning author of more than one-hundred short stories and novels. She's been writing since 2008 and published since 2009. Her stories range from the contemporary and paranormal to BDSM and LGBTQ themes. No matter what the length, her works are always hot, but with a lot of heart. She enjoys giving her characters a second chance at love, no matter what the form. She's been the runner up in the Kink Category at Love Romances Café as well as nominated at the LRC for best contemporary, best ménage and best anthology. Her books have made it to the bestseller lists on Amazon.com and the former AllRomance Ebooks. She also writes under the name of Megan Slayer.
When she's not writing, she spends time with her husband and son as well as three dogs and three cats. She enjoys art, music and racing, but football is her sport of choice. Find out more about Wendi at:
https://wendizwaduk.wordpress.com/
www.facebook.com/wendizwaduk.meganslayer
https://twitter.com/WendiZwaduk
https://www.bookbub.com/authors/wendi-zwaduk
http://www.goodreads.com/author/show/3495446.Wendi_Zwaduk
http://www.amazon.com/Wendi-Zwaduk/e/B003KA589U
Image Credits:
Candle photo: By Richard W.M. Jones (Self-photographed) [Public domain], via Wikimedia Commons
Wax on body photo: By Grendelkhan (Own work) [CC BY-SA 4.0 (http://creativecommons.org/licenses/by-sa/4.0) or GFDL (http://www.gnu.org/copyleft/fdl.html)], via Wikimedia Commons